"New medication for HSDD in females approved"
As expected, the FDA approved Bremalonotide under the brand name Vyleesi® on Friday (6/21/19) for pre-menopausal women with Hypoactive Sexual Desire Disorder. Vyleesi is an injection used at least 45 minutes before sexual activity. Packaged in an autoinjector (like an epipen), women can administer it to themselves in the thigh or abdomen. The effect duration is not known but individuals should not administer more than "one dose within 24 hours or more than 8 doses per month" according to AMAG.  
Clinical trials showed those taking Bremalonotide:
had significantly increased scores on the FSFI-D indicating an increase in desire compared with placebo, and
reported significant improvements in FSFI total score, as well as satisfaction, orgasm, lubrication, and arousal domain scores compared with placebo.
Those taking Bremalonotide also reported lower scores on the question "How often do you feel frustrated by difficulties with sexual arousal?" from baseline and compared to placebo. Total scores on the Female Sexual Distress Scale-Desire/Arousal/Orgasm scale also showed statistically significant with treatment groups reporting lower overall distress.
Researchers reported no change in the number of satisfying sexual events for those in the study, but women taking Bremalonotide reported a significantly higher percentage of events as sexually satisfactory compared with those taking placebo.
Adverse events reported include: nausea (40.0%), flushing (20.3%), injection site reactions (13.2%), headache (11.3%), and vomiting (4.8%). An increase in blood pressure after administering the drug (self resolves within 12 hours) has led to a contraindication of its use in those with cardiovascular issues or uncontrolled high blood pressure. Also, as Bremalonotide is a variant of Melanotan II, increased pigmentation was also a possibility.
About 1% of patients treated with Vyleesi in the clinical trials reported darkening of the gums and parts of the skin, including the face and breasts, which did not go away in about half the patients after stopping treatment.
This darkening of the skin seemed more on the face, gums, and breasts and was tied to dosing and more likely in those with darker skin. That it doesn't resolve means those who begin to see signs may wish to stop taking the medication.
Marketing and info
As always with any business, and maybe especially so with pharmaceutical companies, finances are a big part of the picture. Marketing is already underway pitching Vyleesi as a desire drug. As injection was the only way to ensure proper dosing and delivery, they have a significant barrier to overcome.
AMAG plans to pitch the drug to consumers through social media, including a website called unblush.com that tells women that low sex drive "is nothing to blush about." Unblush.com
Jump over to their marketing website to see their approach and what they are saying about HSDD.
Vyleesi.com
More information about Vyleesi can be found on the official drug website.
Owned by Palatin, Bremalonotide has been licensed by AMAG Pharmaceuticals for distribution in North America. AMAG hasn't announced pricing for the medication yet. AMAG stock rose 7% after the announcement. Palatin's stock rose 25%. 
Coverage from various news feeds…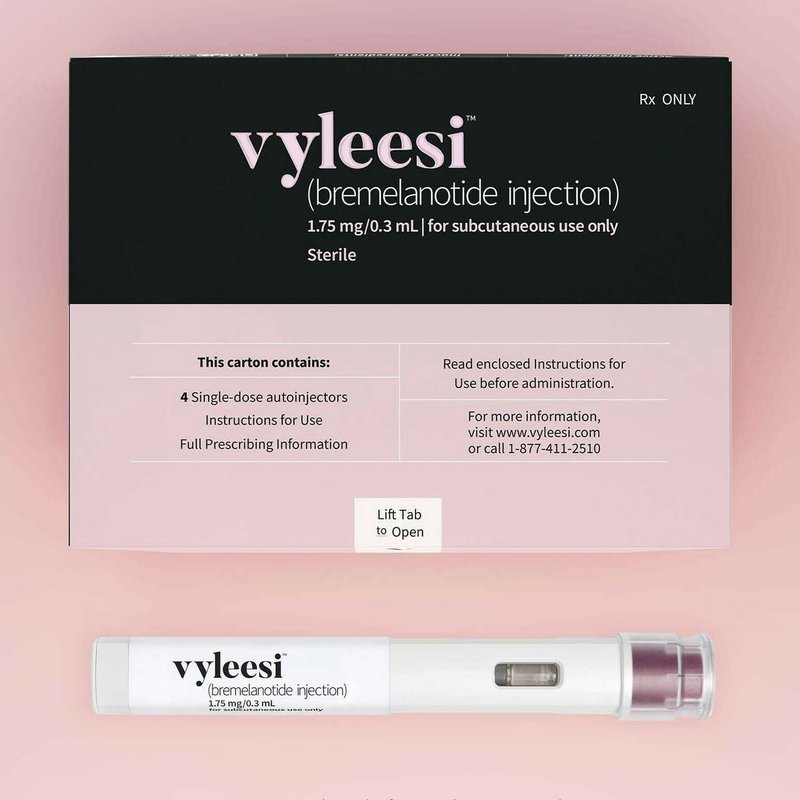 New drug to boost women's sex drive approved in US
FDA approves new drug for women with low sexual desire disorder
The female Viagra, Vyleesi, says it'll fix low libido. But is chemistry really the solution?
NBC Think 
While this article is an opinion piece, it highlights some of the complexity of desire and a drug may not be the best solution. For example:
"While it's undeniable that having a low sex drive can be a source of distress, the solution to that distress is not necessarily taking a medication that promises to amp up one's sex drive." 
Abridged from FDA website…
The U.S. Food and Drug Administration today approved Vyleesi (bremelanotide) to treat acquired, generalized hypoactive sexual desire disorder (HSDD) in premenopausal women.
"There are women who, for no known reason, have reduced sexual desire that causes marked distress, and who can benefit from safe and effective pharmacologic treatment. Today's approval provides women with another treatment option for this condition," said Hylton V. Joffe, M.D., M.M.Sc., director of the Center for Drug Evaluation and Research's Division of Bone, Reproductive and Urologic Products….
Vyleesi activates melanocortin receptors, but the mechanism by which it improves sexual desire and related distress is unknown. Patients inject Vyleesi under the skin of the abdomen or thigh at least 45 minutes before anticipated sexual activity and may decide the optimal time to use Vyleesi based on how they experience the duration of benefit and any side effects, such as nausea.
The effectiveness and safety of Vyleesi were studied in two 24-week, randomized, double-blind, placebo-controlled trials in 1,247 premenopausal women with acquired, generalized HSDD. Most patients used Vyleesi two or three times per month and no more than once a week. In these trials, about 25% of patients treated with Vyleesi had an increase of 1.2 or more in their sexual desire score (scored on a range of 1.2 to 6.0, with higher scores indicating greater sexual desire) compared to about 17% of those who took placebo. Additionally, about 35% of the patients treated with Vyleesi had a decrease of one or more in their distress score (scored on a range of zero to four, with higher scores indicating greater distress from low sexual desire) compared to about 31% of those who took placebo. There was no difference between treatment groups in the change from the start of the study to end of the study in the number of satisfying sexual events. Vyleesi does not enhance sexual performance. … 
Photo from Vyleesi website.